Pitta Dosha is derived from the element fire with a small portion of water. Fire means transformation, heat, metabolism, and the production of energy.
Since our metabolism depends on healthy Pitta fire, this function should not be restricted. In adults, the intensity of the digestive fire can decrease with increasing age.
Consequence: Without digestive fire, food cannot be properly "cooked" in the stomach, says the millennia-old doctrine. Slag ("ama") is formed, which may weigh down the body with unnecessary ballast. An indispensable part of the Ayurvedic treatment is, therefore, the stimulation of the digestive fire to prevent further sagging of the body.
How the Pitta type ticks
What makes Pitta Dosha? Pitta gives us energy, strength, and willpower. Without Pitta, we do not get warm; our blood circulation decreases. Pitta also means ambition, determination, intelligence, and expression of feelings. Without Pitta, our emotions become dull. Impulsiveness, irritability, impatience, jealousy, and excessive living would then be typical side effects.
What supports – what disturbs the balance?
Ayurveda Spices: If Pitta Dosha is in balance; it provides receptiveness, understanding, and the ability to learn. If it is imbalanced, it can cause anger and digestive disorders or even lead to inflammation. Ayurvedic teaching does not recommend spicy food or food that is too salty, too fatty or too acidic. Neither do suppressed feelings, suppressed anger, sunburn, or too much sun and peak performance under time pressure.
Pitta Dosha is considered the only "hot" dosha. Therefore, Pitta types should prefer cooling food in summer. They should be careful to eat bitter and tart foods, such as salads and vegetables. Avoid hot food and drinks as well as spicy, sour, and salty foods. Alcohol should be avoided as far as possible; it is recommended.
Physical and essential characteristics, which are mainly attributed to this type in Ayurveda, are
Skin: bright, shiny, soft, and warm with a tendency to sunburn. It tends to moles, freckles, and rashes.
Hair: fine and soft, mostly blond or reddish
Face: heart-shaped, often with a pronounced chin
Neck: average proportioned
Nose: pointed, straight, and of average size
Eyes: average size and are light blue, light grey or green
Mouth: medium size
Teeth: medium size, gums are slightly bleeding, soft and pink
Physique: medium
Intellect: sharp intellect, precise, clear speech
Sleep: deeper, but short sleep
Interpersonal: angry, bossy
Character/Manner of living: an enterprising, courageous character with a tendency to impatience and anger
And, did you recognize yourself in the Pitta Dosha?
Recipes for the Pitta Dosha menu
Lots of vegetables, sweet fruit, and fresh herbs: the Pitta Dosha menu offers us the right conditions for a varied menu. To give you an idea of what such a menu could look like, we will conclude by showing you delicious dishes for the Pitta Dosha.
Coconut Chutney
Ingenious side dish for vegetable dishes and super dip for the spring picnic: A coconut chutney makes our taste buds happy in every situation. Packed with cooling natural products, this creation is particularly suitable for Pitta Dosha. Quickly and easily made, it leads the ambitious Pitta Dosha quickly and successfully to its goal. For a satisfied mind and a happy stomach.
The ingredients:
– 2 tablespoons of coconut
– 2 tablespoons coconut milk
– Fresh coriander
– Dried curry leaves
– ¼ TL Coumine seeds
– ½ tsp black mustard seeds
– Pinch of Himalayan salt
– 1 teaspoon of coconut oil
The preparation:
We mix the coconut puree with the coconut milk and heat the coconut oil in a pan. The mustard seeds may sweat just as briefly. As soon as they burst, we add the remaining spices to the pan. The incredible smells are already getting into your nose? Wonderful! Then they are ready to meet with our coconut cream. We mix all ingredients carefully and taste them in the end. We serve coconut chutney with fresh vegetables or a green salad.
Oat porridge with apple compote
If you want to start the day with power, it's best to conjure up a delicious porridge. As a cooling cereal, oatmeal for Pitta Dosha is wonderfully suited for starting the day. Combined with fresh apples and the wonderfully aromatic Ceylon cinnamon the day can only succeed!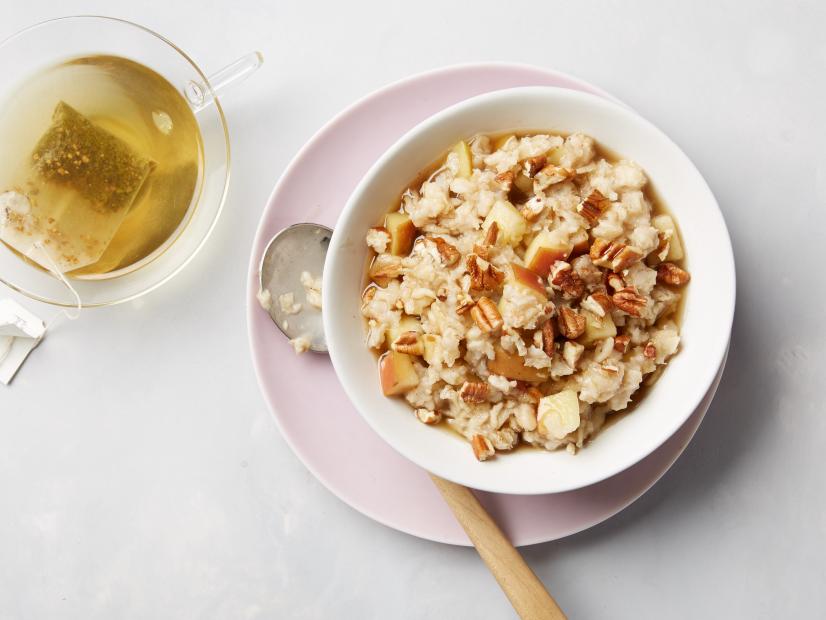 The ingredients:
– 40 g gluten-free oat flakes
– 100 ml water (or a plant drink)
– A tsp Ceylon cinnamon powder
– 1 sweet apple
– teaspoon of pollen
The preparation:
We put the oat flakes in a pot and add the liquid. Cut the apple into small pieces. These may also be put into the pot with the oat flakes. As soon as they have absorbed the liquid and the apple has softened a little, we stir in the cinnamon powder. Pour the finished porridge into a bowl. With a teaspoonful of pollen, we give our seductive oat apple porridge the finishing touch.
Zoodles with pumpkin seed parsley pesto
Zoodles are pasta made from vegetables – more precisely zucchini. Thanks to its elongated shape, the vegetables can be easily transformed into the typical spaghetti shape with the help of a spiral cutter. And just as it is often done with Italian noodles, zucchini spaghetti is also ideal for enjoying with fresh pesto.
The ingredients:
– 2 zucchinis
– pinch Himalayan salt
– bunch of parsley
– teaspoon yeast flakes
– tablespoon pumpkin seeds
– tablespoon of Moringa oil
The preparation:
In the spiral slicer, we turn the zucchinis into green spaghetti. Don't you have one at hand? You can find the appliance in well-assorted household goods stores as well as one or the other organic market. We blanch the finished zucchini in salted water for two to three minutes. After draining, we put them aside for a moment and devote ourselves to the pesto.
To do this, we first wash the parsley and then put all the ingredients in the blender. At the highest level, the blender produces a creamy paste that we can now season to our liking. We now add the finished pesto to our zucchini pasta. To make sure that every single noodle gets its portion, we stir well in the plate. Finally, we garnish the summery dish with fresh herbs and some pumpkin seeds. Done!
We wish you a good time.